Attended an online seminar which focused on cinematography. Now as everyone knows video has moved to the DSLR realm. Why use those heavy, bulky video camcorders, just doesn't makes sense.
Yea, right!
Nope, I love those big ol' cameras. BUT, never ignore the tools of the trade and experiment with everything!
I recently did a shoot that required handheld capture for long periods. Needless to say by the end, I was quite shaky. Could have hauled around my lighter tripod, but that would have been a bit disruptive in the small theater during the sensitive classical music moments.
Back to the seminar. They talked quite a bit about using a monopod for run and gun action. Their favorite one seemed to be the
Manfrotto 561BHDV-1 Fluid Video Monopod and Head
. This has proven to work well with the lighter DSLR rigs. Check out one of the
reviews
. This felt like another opportunity to try something new and solve the shaky cam, wearing out the old guy's shoulder issue. But could this one handle the cameras that I use. The cameras are just too heavy. However, Manfrotto makes another
model
which can handle triple the weight of the
561BHDV
. Since I already own a couple Manfrotto fluid heads, this was an obvious choice.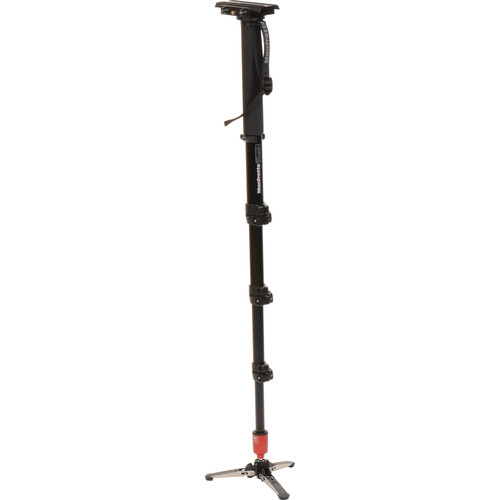 I have had the monopod for a few days now and after experimenting with it, I find that this will solve my exhaustion shaky cam issue. Plus, I now have several new options for shooting. First, the monopod gives you the ability to perform a limited range dolly-style move for a forward and backward motion. Next, it is far taller than my tripods so I can get above the scene and still occupy a large footprint. Finally, this allow a much more run and gun style for me and my big cameras.
Not all is nirvana. Unlike a tripod, you can't just leave it stand while you prep some other aspect of the shoot. It does require some planning to make sure you have everything ready prior to dedicating all of your attention to the monopod.
Also, I am using an old
Manfrotto 501HDV Pro Video Head
as the topping for the monopod, so I will still need to keep working out to make sure that I can haul this entire rig around easily for long periods of time. But at least now I get to rest a bit during extended shots.
I really like this setup and can't wait to try it out for some actual assignments